11/01/2022
Gallatin Housing Authority Introduces New Branding
Gallatin Housing Authority recently rebranded their logo. The logo rebrand was created by Brooks Jeffrey Marketing, Inc. and will be used on the new responsive website launching in 4Q 2022.
The rebranded logo utilizes the existing green and yellow colors from the previous logo. The blue color was added to create emphasis on the words included in the new logo. The slogan "Making Waves in Affordable Housing" was added to represent Gallatin Housing Authority taking action on Affordable Housing. The new blue color and green curvy line under "Housing Authority" was implemented in the new logo to resemble the "Waves" Gallatin Housing Authority is making. The house rooftop, chimney, and window icons were added to further relate Gallatin Housing Authority with housing.
The new logo is easily identifiable & easy to read. Importantly, the new logo will be easy to reproduce on a variety of marketing and promotional products to further promote the goals of Gallatin Housing Authority.
For more information about the logo rebrand, please contact Michael A. Bates, Executive Director at 615.452.1661 or email Gallatin Housing Authority.
New Branding: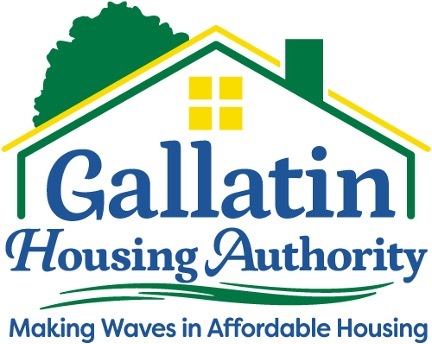 Old Branding: